During this pandemic, it is not possible to jet off to some island. However, it is still possible to drive a few miles for a staycation at amazing apartments in the city. Small changes in our life could bring a lot more happiness, even during these difficult times.
Having stayed in more than 50 Airbnb properties around the world with around 15 in Dubai, I can say that I love Airbnb. Some apartments I stayed at had the amazing and iconic "Dubai view", yet most of the time I was content to get an apartment with a decent window having the view of warehouses and semi constructed desert on the horizon. (You can read on how to avoid bad Airbnb experiences here.)
If you are stuck in your apartment, working from home like myself, it is very natural to have some frustrations. This could lead to an adverse impact on your work or even relationships. I am not a career counselor or a marriage therapist, but I am quite sure a $200 per hour consultation will include a "change of settings" in either case.
Hence, we have curated the list of top 10 apartments available in Airbnb that will keep you fascinated and refreshed from the lockdown hangover. A little change over an extended weekend in your living space might get your creative juices flowing; for work as well as romance 😉
We have selected the top 5 picks in around Downtown/Burj Khalifa area, as well as from the Dubai Marina and JBR area.
---
Downtown/Burj Khalifa Area
People around the world immediately picture this area when they hear Dubai. However, for a resident, the concept of living in this area could be foreign. Enjoy the touristy sensation while staying at one of the most iconic addresses in the world.
Apartment with Burj Khalifa Close Up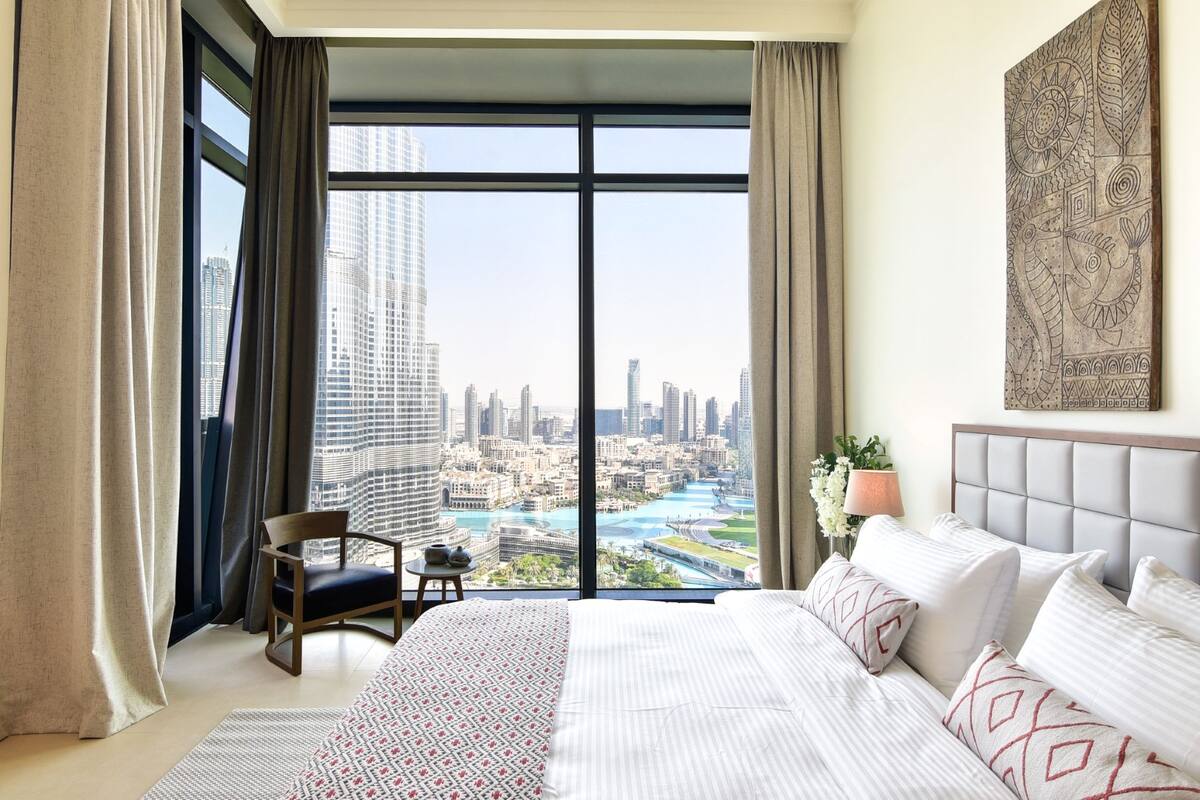 Definitely for the couple who wish to wake up to the view, and post it on their Instagram. Located on the 25th floor, the view and the amenities just makes the stay magical. You also have a large balcony with the same view, perfect for sipping on sparkling rose with your special one. (AED 243 per night; click here to make a booking on Airbnb.)
Premium 1BDR in Downtown with the View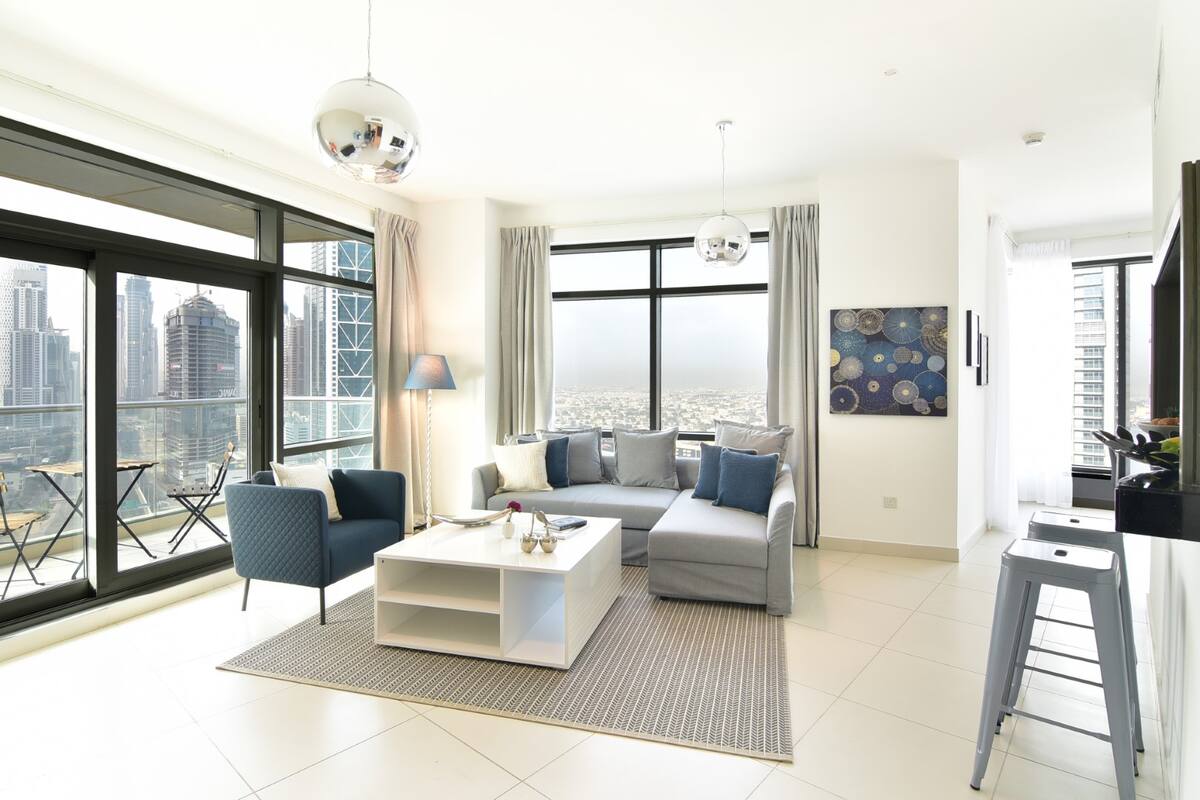 This fully equipped apartment will make you feel like at home in the most iconic district of Dubai. Just pack your bag for a few days. The panoramic view of the Sheikh Zayed Road is a treat while you work out of the living room. (AED 153 per night; click here to make a booking on Airbnb)
2BDR Luxury Apartment with a Panoramic Burj Khalifa View
This place is ideal to grasp the uninterrupted, stunning view of the Burj Khalifa area. From the couch to the bed, the house glitters with luxury. As there are 2 bedrooms, it is ideal for a family or "quaranteam" to have a weekend getaway. (AED 350 per night; click here to make a booking on Airbnb.)
Urban Chic Condo with Large Terrace by the Burj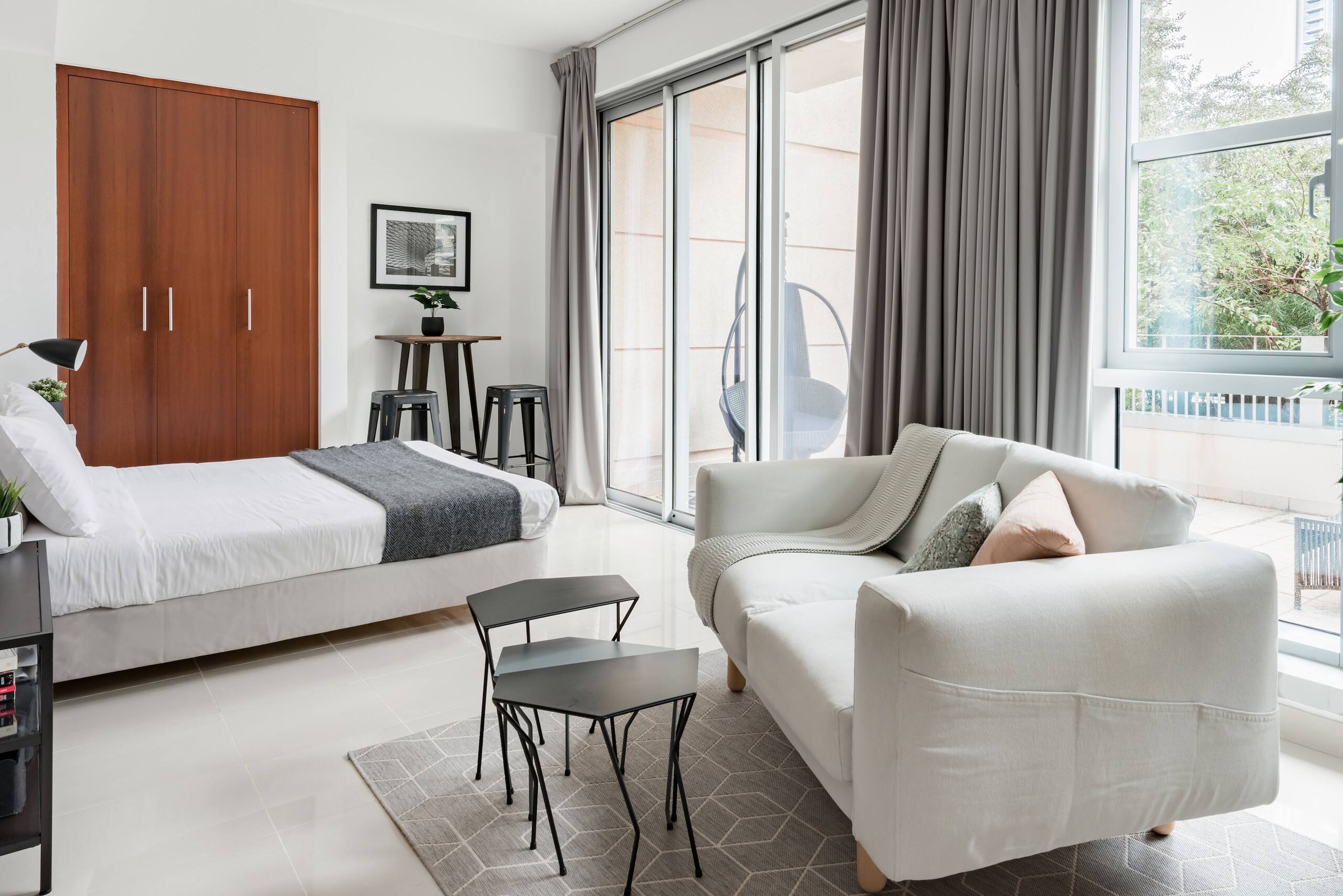 Forget the view. Being steps away from the Burj Khalifa and the Opera District, this is definitely located in the celebrity area of Dubai. Yet, it feels cozy and quiet. One of its best features is the large private terrace with the swing. Perfect for a couple's weekend getaway. (AED 291 per night; click here to make a booking on Airbnb.)
Colorful Airy Studio by the Canal
If you love staying by the peaceful view of the water, this is the perfect place. Start your day early by a morning jog along the canal, and get your work done throughout the day, totally refreshed. Perfect for a sundowner with your significant other. (AED 172 per night; click here to make a booking on Airbnb.)
---
Dubai Marina – Jumeirah Beach Resort Area
This is the sun-soaking, beach-loving, and party going area of Dubai that is known throughout the world. As I work out of Media City when in town, I am in love with the area. Early morning walks by the marina, a quick tram ride to the office, or even just sitting by the beach at 3 am listening to the sound of ebb and flow – I never get bored of it.
Magical Marina view 1BDR Apartment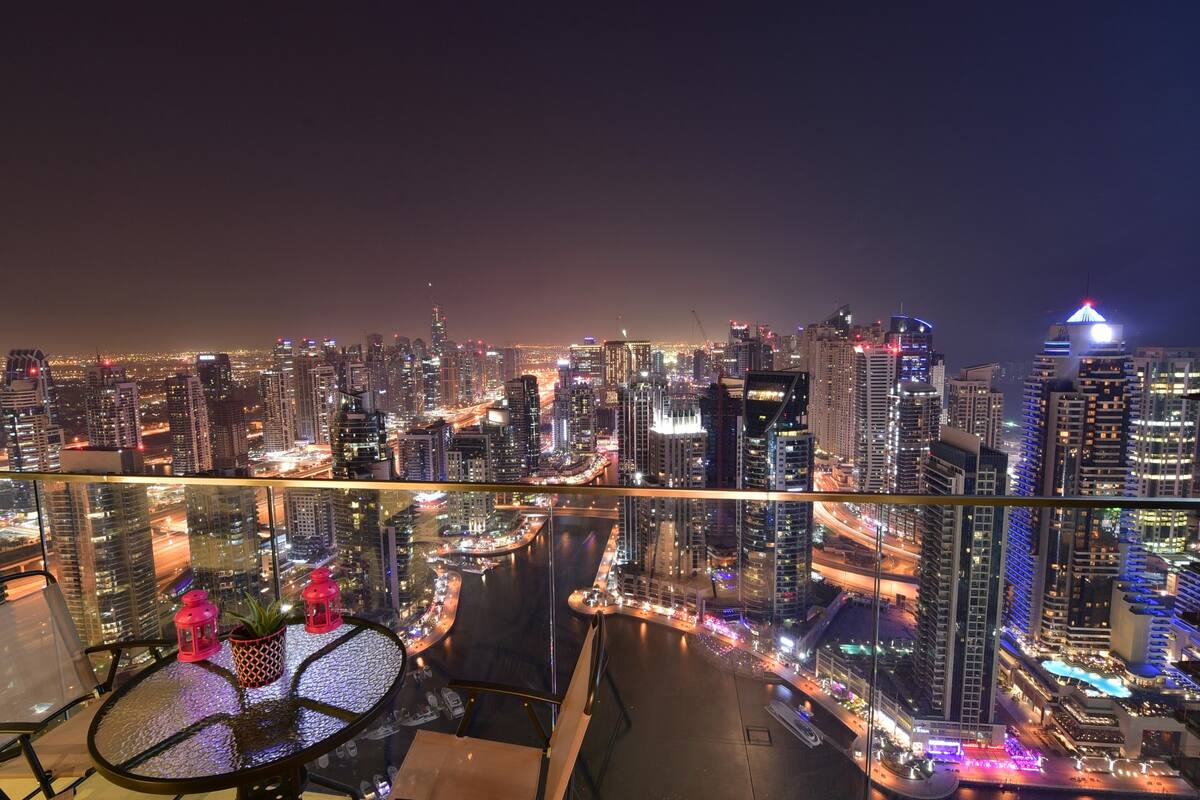 You do not have to step out of the apartment as long as you have the right company. You get the fully lit view of the Marina and Sheikh Zayad Road from all the rooms. With the spacious balcony, this could challenge many 5-star properties nearby. (AED 320 per night; click here to make a booking on Airbnb.)
Duplex Loft Apartment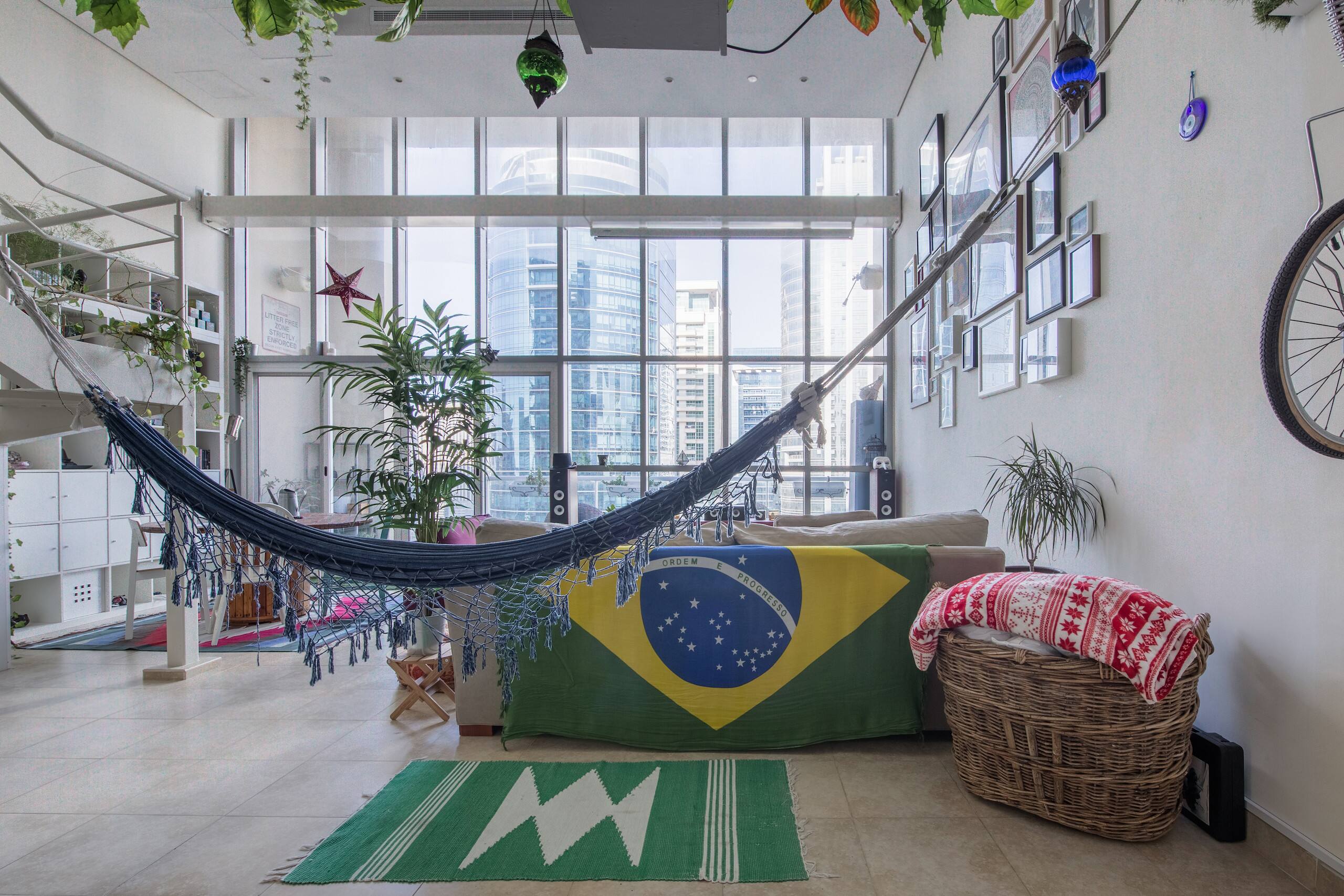 One of the top-rated apartments in the city where you can cross off sleeping in a loft from your bucket-list. This apartment is ideal for a work from home set up, with plenty of amenities to keep you focused – or adequately distracted. (AED 306 per night; click here to make a booking on Airbnb.)
Soak in Bath with a Skyline View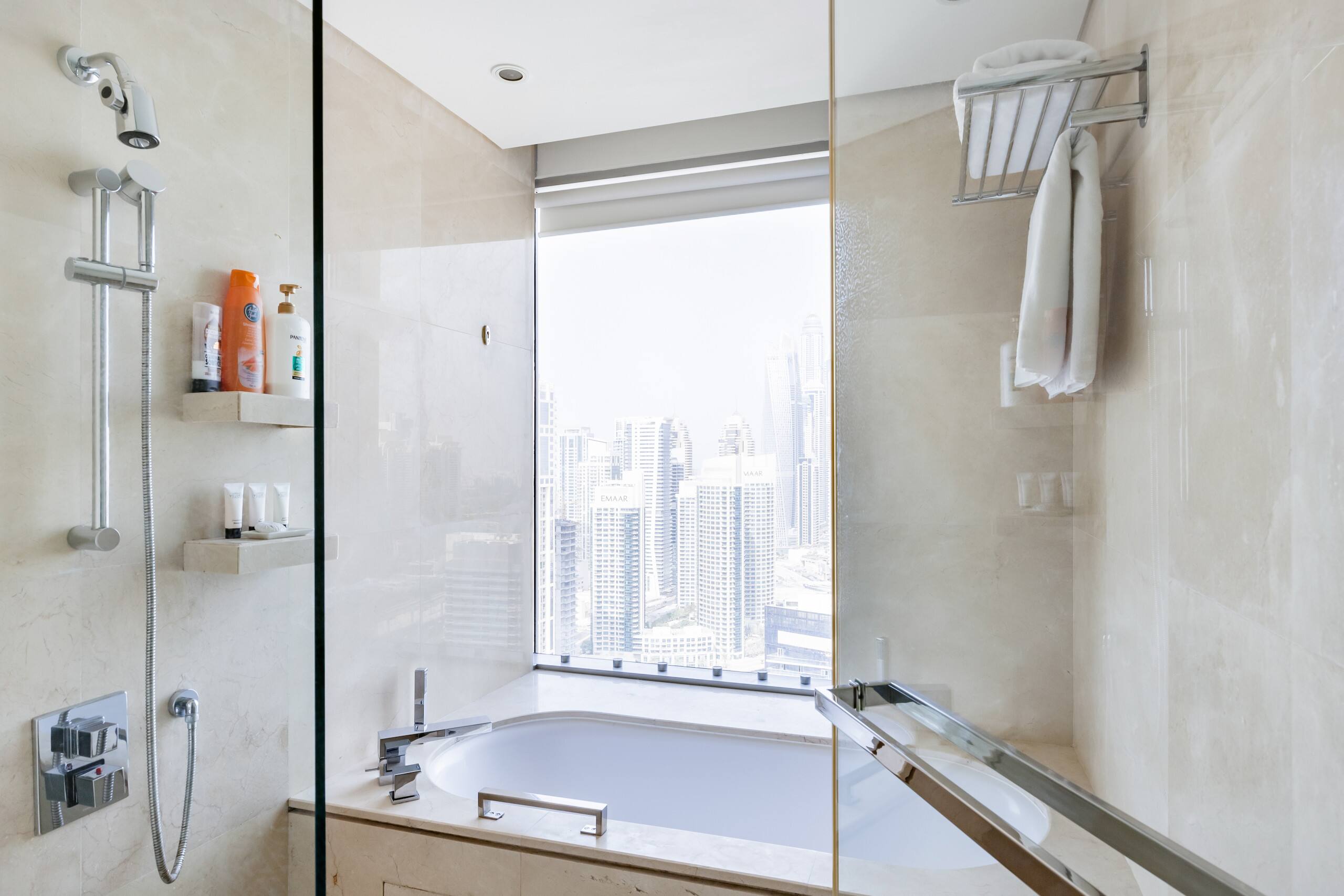 Yes, there is a bathtub with a Skyline view. It's a fantasy for every hard-working soul to just dip into the warm, soapy bath with few candles lit and a bottle popped while appreciating the view from the window. It might be a perfect gift to surprise your significant other with. (AED 275 per night; click here to make a booking on Airbnb.)
Full Sea View 3BDR at Jumeirah Beach Resort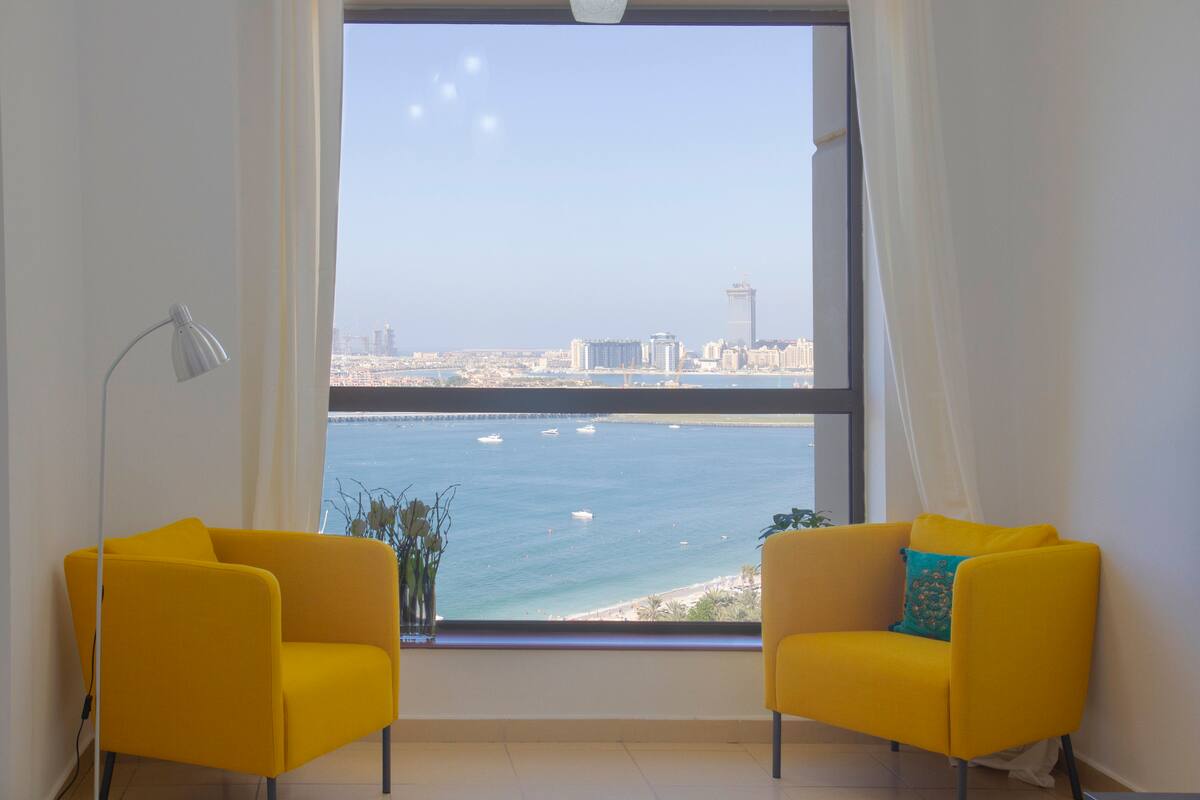 It's pretty tough to find a place with a full sea view in one of the most popular residences in Dubai. With 3 bedrooms, this place is perfect for a family. The magic in this place is the sunset over the sea horizon you can see from the master bedroom. (AED 300 per night; click here to make a booking on Airbnb.)
Trendy 1BDR with an option to Netflix and Chill
This apartment checks out on every front: fully equipped for work from home set up, coziness as well as the wonderful view of the Marina. As a cherry on top, this place boasts the 5 out of 5 ratings by travelers so far. Grab it while it's hot! (AED 213 per night, click here to make a booking on Airbnb.)
---
With the current travel bans, there are a lot more properties available at a great price. However, there could be a difference in the listing – as most pools and gyms are closed in the city. Please speak to our avendi concierge service to find the perfect accommodation for you to get out of this COVID-19 rut.
*Please follow the rules and regulations announced by the relevant government authorities during this COVID-19 pandemic. We suggest you put on masks at all times while in the public area and always keep up with social distancing and proper hygiene.
**We do not own the pictures and all the pictures of the properties are taken from each of the Airbnb listings.